Muinmos' mCHECK™  KYC/AML solution allows you to link to numerous data-sources directly through the solution
From PEPs and Sanctions to POR and Beneficial Ownership, the mCHECK™ KYC/AML solution allows you to perform any kind of due-diligence check, anywhere
mCHECK™ performs all KYC/AML checks instantly and automatically according to your predefined configurations
Rigorous Global KYC/KYB/AML/CFT Checks
mCHECK™, Muinmos' KYC/AML solution, is a key module in Muinmos' client onboarding platform, enhancing KYC compliance processes.
It provides a comprehensive set of due diligence tools including KYC/KYB/AML/CFT checks to assist Financial Institutions with client and third-party risk mitigation, combating financial crime.
mCHECK™ is industry-unique in that it interfaces with numerous data-sources. All data-sources are checked and vetted by Muinmos' experts. More can be added upon request.
mCHECK™ keeps monitoring your clients daily throughout client lifecycle, alerting in case of a relevant change like address change or new adverse media.
mCHECK™ is cloud-based and offered as a standalone solution or together with mPASS™ and/or mRX™.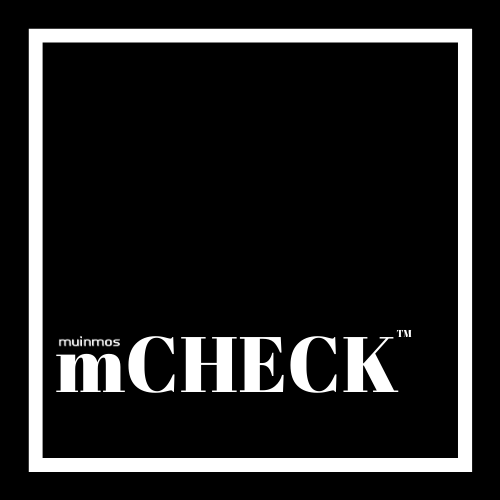 Full company verification including ultimate beneficial owners, financial data, credit scoring, corporate events and more
Full individuals verification including PEPs, sanctions, POI, POR, adverse media screening and much more
mCHECK™, Muinmos' KYC/AML solution, provides global coverage from multiple KYC/AML data providers through one integration only
Constant monitoring of clients' profiles to verify continuance compliance
Learn more about our two other modules for a complete client onboarding solution and onboard any client type in under 3 minutes
mPASS™ complements Muinmos' other modules by providing full financial product, services and cross-border clearances including automated categorisation, suitability & appropriateness checks.
mRX™ is Muinmos' innovative risk assessment tool. Clients can select which modules to integrate with or combine all three for a complete compliance solution.